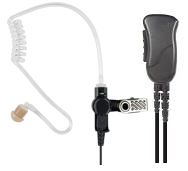 Surveillance Kits
MIRAGE™
MIRAGE™ Series - SPM-1300 - Surveillance Kit , Lapel Mic Style (1-wire) with Noise Reducing Mic element and Clear Tube Earphone..
The MIRAGE Lapel Style Mic Kit features a Clear tube, Surveillance style earphone. The tube assembly has a twist connector making it easy to replace or clean. Kit includes standard Bud type earpiece and your choice of semi-custom Ear Insert.
FEATURES
Surveillance Style Professional Grade Lapel Microphone.
Clear Tube Earphone is easy to attach and remove for cleaning or replacement (great for multiple users to share - each has their own tube assembly)
Metal reinforced clips on both Microphone and earphone rotate 360 degrees.
High-quality electret condenser Microphone provides excellent transmit audio. Lapel style mic allows the user to hold or mount the microphone close to their mouth helping to reduce background noise.
The rugged polycarbonate Microphone housing has been recently upgraded to make the mic more directional further helping to reduce background noise.
Features rugged, Kevlar reinforced cables with oversized strain reliefs.
Our DST (Dual Switch Technology) uses 2 independent PTT switches to improve reliability and help the switch to work perfectly no matter where you press it.
| Name: | Version: | Date: | Size: |
| --- | --- | --- | --- |