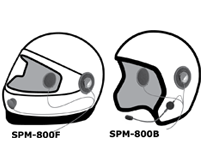 Headsets
HIGHWAY™
"HIGHWAY" SPM-800(B/F) Series - Motorcycle Helmet Microphone: Motorcycle Helmet kit with Dual High Output Speakers. Available for either full or half-face helmets.
The SPM-800 HIGHWAY Series is an in-helmet boom microphone and speaker system for motorcycles. The electret mic system helps minimize background noise. The SPM-800 features a large, rubber-covered PTT button that can be secured to handlebars or held in the palm of the hand and is easy to operate even while wearing gloves. The HIGHWAY installs using only velcro pads and there is no need to drill any holes in the helmet which might weaken it.Two versions are available: SPM-800F for FULL helmets and SPM-800B for half-face helmets.
Low cost, in-helmet motorcycle mic system
Powerful in-helmet speakers allow the user to hear radio transmissions over road noise.
High-quality electret condenser element produces excellent transmit audio.
Handlebar mountable Push-To-Talk switch for convenient communications
Installs into helmet using only two-sided fastening tape. No drilling of holes is required.
Modular features allow the mic system to be easily disconnected from the motorcycle.
Available for both open faced (SPM--800B) and full faced (SPM--800F) helmets.
| Name: | Version: | Date: | Size: |
| --- | --- | --- | --- |