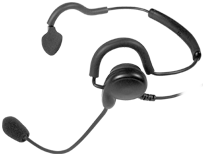 Headsets
PATRIOT™
PATRIOT™ SPM-1400 Series - Lightweight Headset: Behind-the-head headset with noise-cancelling boom microphone and earphone. Can be upgraded to TACTICAL or QD version.
The Patriot is a behind-the-head headset that is a breeze to wear! The noise-canceling flexible boom microphone provides clear transmit audio while the loud single-ear speaker lets incoming signals be heard. Has an inline Push-to-Talk button and features a jack for an optional remote PTT accessory.
NEW SPM-1430 FITS THE ICOM ID-31A/51A and IP100H
Rugged, medium duty behind-the-head headset with flexible boom microphone
Adjustable, padded headset allows for ideal fit and maximum comfort for long hours of use.
Noise canceling boom mic
Rugged polycarbonate PTT housing for maximum durability
High-quality speaker allows for ideal receive audio.
Remote PTT allows for multiple uses in the field.
Reinforced strain relief gives unit maximum durability.
Great for Airsoft. See what users are saying: http://www.youtube.com/watch?v=lISEX3QSMr4
| Name: | Version: | Date: | Size: |
| --- | --- | --- | --- |